Reviews and customer feedback
Where can I check other customers feedback or reviews before I place my order?
We have a store at eBay and Etsy and you can check the feedback there. Also we have account at TrustPilot. We are proud to have a review from professional reviewer like Kaminsky blog.
Should I receive any order confirmation email?
Unfortunately our website does not support automatic order confirmation emails. But you will receive an email from paypal which also confirms that the payment was sent to our partners payment system.
What is the currency used on the website?
All the price are in USD. If your primary currency is a different one - Paypal will be offering conversion to USD according to their current exchange rate.
Why is my payment going to Western Bid?
Our store, NixieShop, is integrated with the Western Bid™ e-commerce platform, and Western Bid, Inc. serves as the Merchant of Record for all purchases made on NixieShop. Therefore, you will see WESTERN BID listed as the payee on your PayPal account and credit card statement.
What is the handling time?
Normally it takes us 3-5 days to send your orders out. But since the demand may vary the handling time may take a couple of extra days..
What is the shipping price?
The shipping fee is already included into the price. So it is so-called FREE shipping :)
What shipping service do you use?
We ship via UPS express - they are more reliable compared to the Air mail service which we were using earlier.
Do I pay the import taxes?
Unfortunately the eligibility for paying taxes is on customers. Please consider import tax policies for your country before placing your order. Some of the countries have a high tax free limit and there is nothing to worry about (e.g. in the USA - $1000 USD).
How do I track my order?
Once your order is shipped - we will send you an email notification with a tracking number. With this number you can get a detailed tracking history from the UPS website here. As an alternative you can also check the shipment status at - 17track website.
How long does it take for my order to arrive?
It all depends on the destination country and how fast your local Customs Office will process the clearance. Some delays may occur during Christmas season due to high load (November - December). Europe - 5-9 days USA and UK - 7-10 days Asia, Australia and other countries - 10-12 days Please note that due to the ongoing war in Ukraine we ship from our neighbouring countries Poland and Romania. It takes us extra 3-5 days to transport packages out of Ukraine by car and dispatch them from romanian and polish UPS offices.
Is there any warranty and how long does it last?
Sure, we offer lifetime warranty for electronics and 2 year warranty for tubes. In case of any issues - we will make a repair for the cost of return shipping (which is $15-25 depending on the destination location). The warranty for tubes covers up to 3 tube replacements. All the tubes are in sockets and could be easily replaced by hand. It does not require any soldering.
How to replace the Nixie tubes?
If it comes to tube replacement - here is a short video on how to swap them:
And a more detailed video with taking the clock apart:
What if the clock arrives damaged?
Unfortunately, there is always a risk of damage during delivery. And even the best packaging would not withstand certain circumstances. In this case we will be offering an exchange or a full refund. We also need the damaged item to be returned to us.
What colors are available?
Our default color is Black matte. But you can also get old-school green. It will have matte finish as well.
How can I add my custom message?
Sure, we can add engraved greeting message to the plastic cover of our clock (bottom or top plastic panel could be engraved). This option will add $15 to the total during checkout. All the messages are limited by 70 symbols due to small surfaces, but we can try to squeeze bigger messages onto the lid surface upon request. Feel free to email us for more information.
What is the average lifetime of a Nixie tube?
According to the datasheet of one of the most popular IN-14 Soviet made Nixie tube the minimum lifetime is 5000 hours which is even less than one year. But in fact the major number of Nixie tubes will serve for many years (or even decades as some Nixie clock owners say). However, since all the Nixie tubes that we use in our clocks were discontinued 30 years ago (the last batch's date code was dated to the late 80s) there is a chance that some of the tubes may die earlier. The main reason is that some tubes may start to leak after such stress like shipping or mounting them into sockets - any kind of physical impact (even a few months later after shipping). Glass to metal seal (place where wires feed through the glass) is the weakest place of any Nixie tube. Applying  stress to this seal may cause a tiny cracks in glass that leads to a leak of atmosphere into glass envelope and eventually tube dies.
Are the tubes replaceable?
Yes, in our clocks we use modular design for tubes. They are all in sockets and do not require soldering for replacement. You can easily replace them by hand.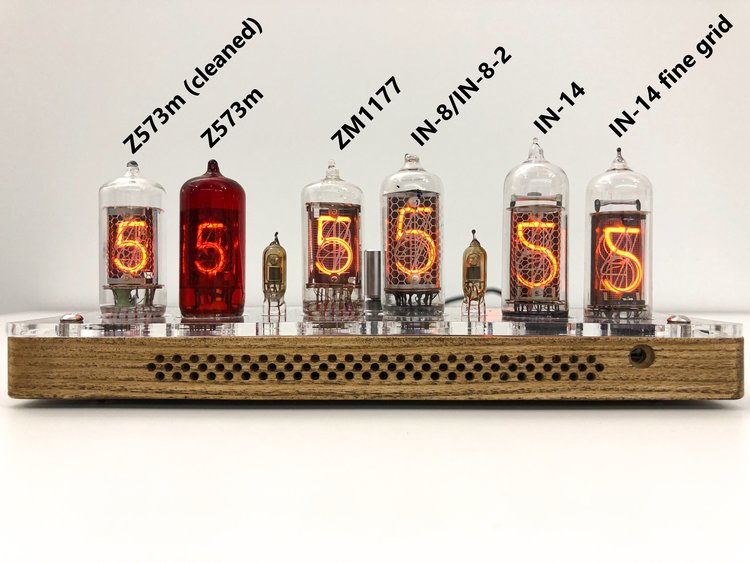 What is the difference between Nixie tubes?
First of all - is the size. Depending on a size the price of tubes are formed. The most common Nixie tube IN-14 has a middle size and thus is the most affordable and popular. The second criteria, which is also considered is a shape of "5" digit. The most available and common Nixie tube IN-14 has a upside-down "2". Due to some reasons (probably economy) soviet engineers decided to reuse some materials. For more obvious comparison see the image below.
Power supply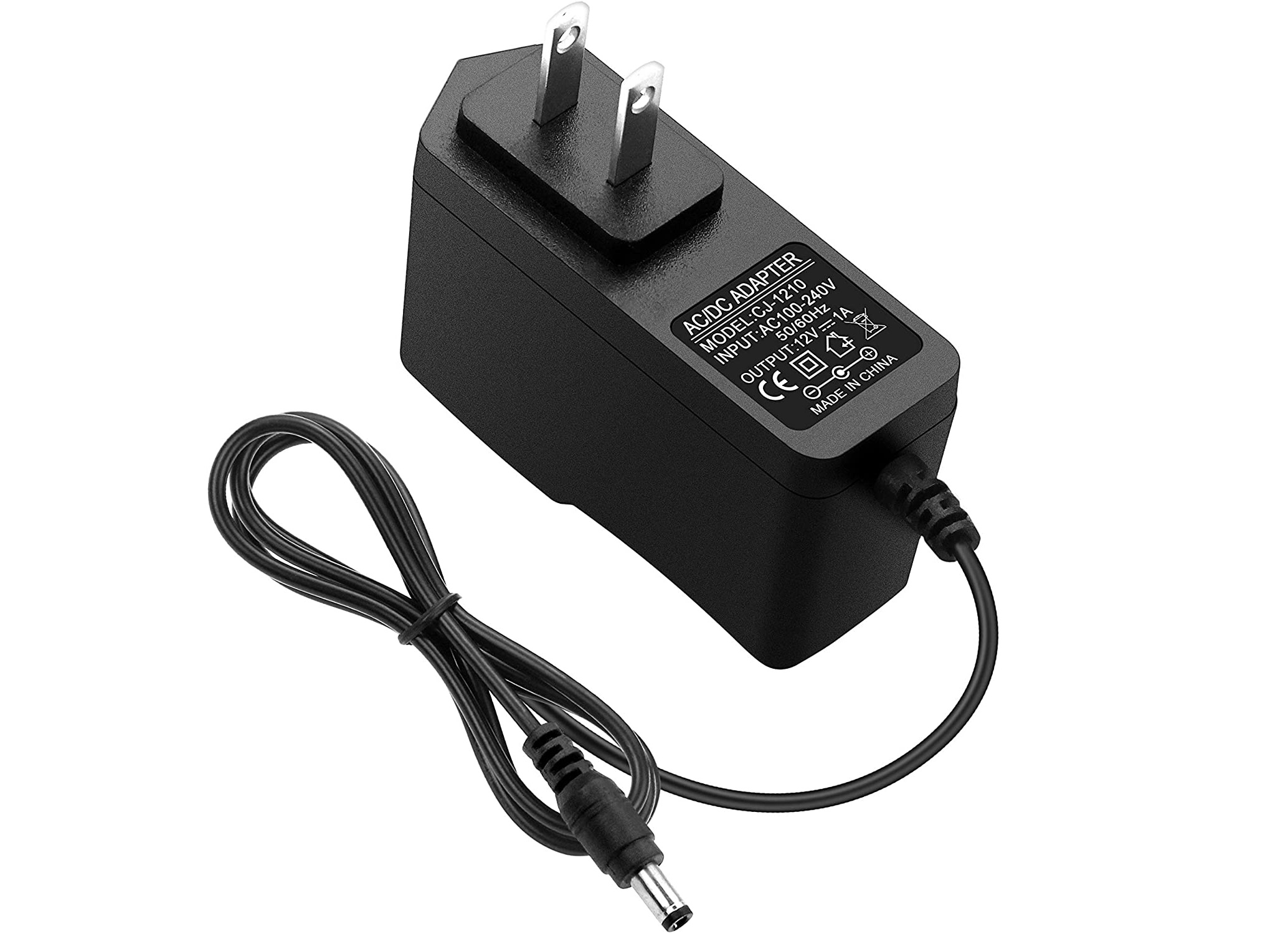 What type of power supply is used with these clcoks?
All of our Nixie clocks are powered by 12v and at least 0.5A (but anything in the range of 9-18V is good too). The average current consumption is 0.2-0.3A though. The power socket on the clock or power jack on power source has following specs - 2.1mm x 5.5mm. In case we are out of stock of some power supplies you can always find them on Amazon here or from our US based spplier here.
Do you accept returns?
Sure, if you are not happy with our clocks - you can contact us during the first 30 days after the purchase arrived and agree to return. We will make a full refund once the product returns back to us.